" Mystic Rebel is a demi-fine jewelry brand that was created by the inspirations received from mysticism, ancient wisdom & the healing energy of stones.  Made with high quality materials & designed to empower & heal the wearer, every piece of jewelry is handmade with intention, cleansed with sacred smoke & charged with the energy of the full moon "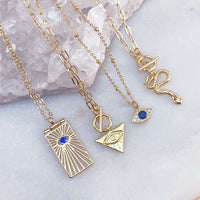 Mystery School Collection
A collection of magical adornments inspired
by ancient esoteric symbols that embody secrets codes and planetary activations. 
Enter the portal
Testimonials
I feel incomplete without wearing your jewelry. I always feel divinely protected every time I wear one of the many necklaces I bought from you. Girl, you're gonna make me broke! lol

Arianna M.
Your jewelry is ridiculously affordable for the quality. I've bought jewelry at Nordstroms for more expensive and they tarnish just by sitting on my dresser. I've been wearing your jewelry everyday, even in the shower, and they're still good as new. I don't know how you do it!

Chelsea C
Your jewelry is literally the only jewelry that I wear. I have sensitive skin and yours is the only jewelry that doesn't give me a reaction.

Bree A
I'm obsessed with my labradorite choker, I never take it off. I've worn it all summer at the beach, pool, shower, everything. And it still sparkles the same

Elizabeth N
I don't know if it's a coincidence, but ever since I've been wearing the rose quartz self love necklace, I haven't been feeling as heartbroken lately. The intense pain I used to feel is a lot more manageable. I never take it off, thank you so much!

Diane L
I love your work so much and how easy it is to wear every day all the time i'd love to add another piece to my collection! I wear my ankh necklace everyday!

Kat S
I just got my package! You have seriously outdone yourself! It's even more delicate and perfect in person than I had imagined! Thank you!!! I can't wait to order more!

Melissa B
14k gold filled ankh choker
The ankh is an ancient, sacred and powerful symbol that represents life & the universe.
The ankh holds a secret code that transmits sacred knowledge to all who can penetrate its deep symbolism.
MORE